Money Mindset – Mildura Workshop
March 9 @ 2:00 pm

-

3:30 pm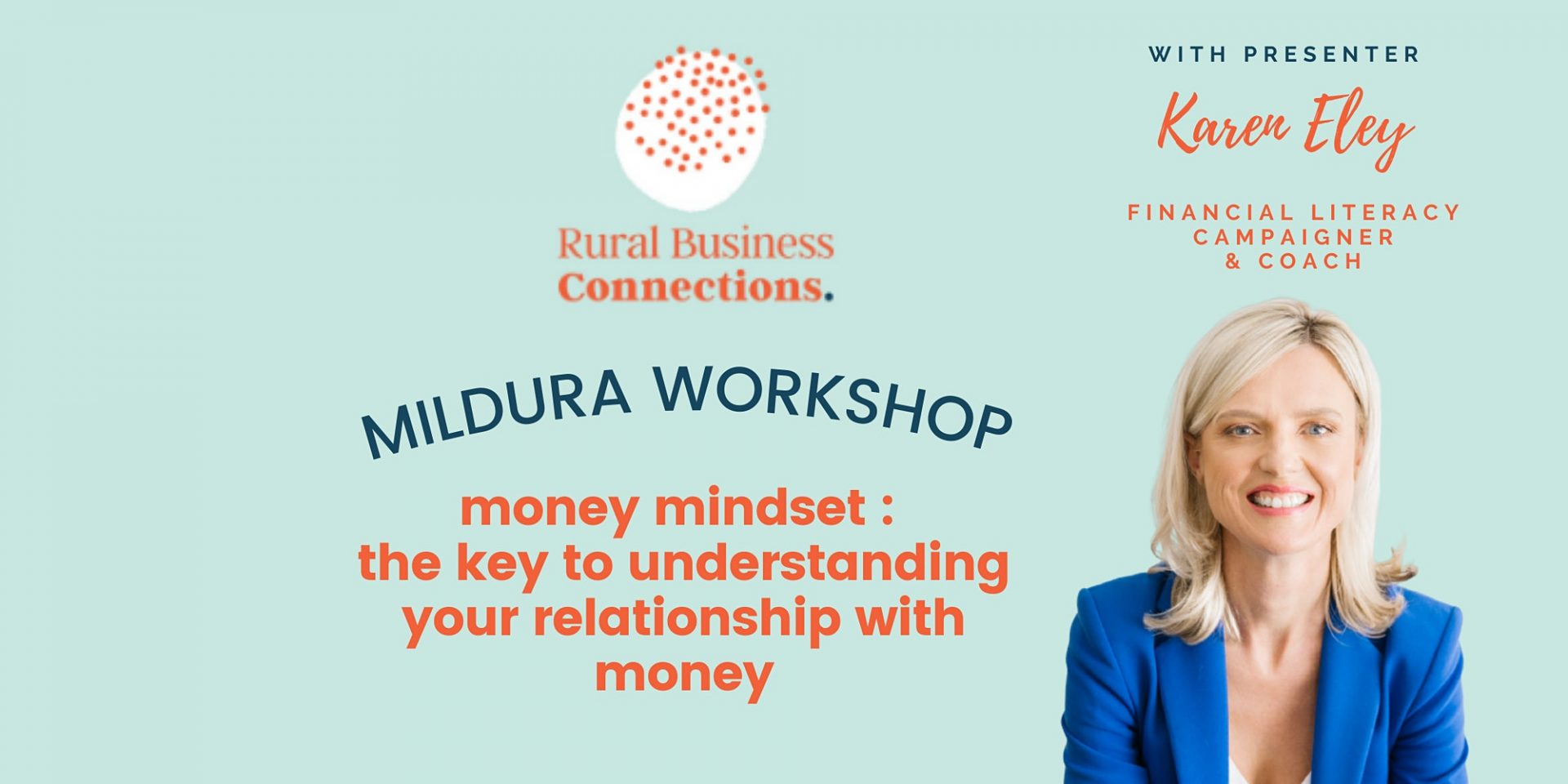 Money Mindset: the key to understanding your relationship with money with Karen Eley
RURAL BUSINESS CONNECTIONS WORKSHOP WITH KAREN ELEY
Karen will pull back the curtain on what keeps people stuck in procrastination, resistance, fear or freedom, good and bad financial habits.
What you'll learn:
The science behind the brain and why it doesn't always bode well for making financial decisions
How our financial beliefs are formed and why they so important
What you currently believe about money and how you make your financial choices
How our feelings impact our financial action- (or inaction) taking
The '8 Money Types' (archetypes derived from years of financial psychology and behavioural economics research) and how they drive our financial decision-making
Strategies to deliver practical and emotional financial solutions that can transform your relationship with money
If you're in a relationship, you'll learn why you're not always on the same 'financial page' as your partner and how you can foster and maintain financial intimacy
With practical exercises and take-home tips, you'll really get to know and understand your relationship with money.
Money is an integral part of our lives, affecting our relationships, self-esteem, health, career and families. Whether we want to or not, we all have a relationship with money – so we should make it a good one!
PLEASE BE ASSURED ALL WORKSHOPS WILL RUN IN LINE WITH THE VICTORIAN GOVERNMENT'S PUBLIC HEALTH ADVICE:
All attendees must abide by the latest public health advice by the Victorian Government here
INCLUDING:
You will need to show evidence of being fully vaccinated or carry evidence of a medical exemption to attend
You will not able to attend this event if you have been instructed to quarantine by the Victorian Department of Health (If you purchase a ticket and then are instructed to quarantine by the Victorian Department of Health, we will refund fees for paid tickets).