90 day business action plan – Mildura
August 16 @ 1:30 pm

-

4:00 pm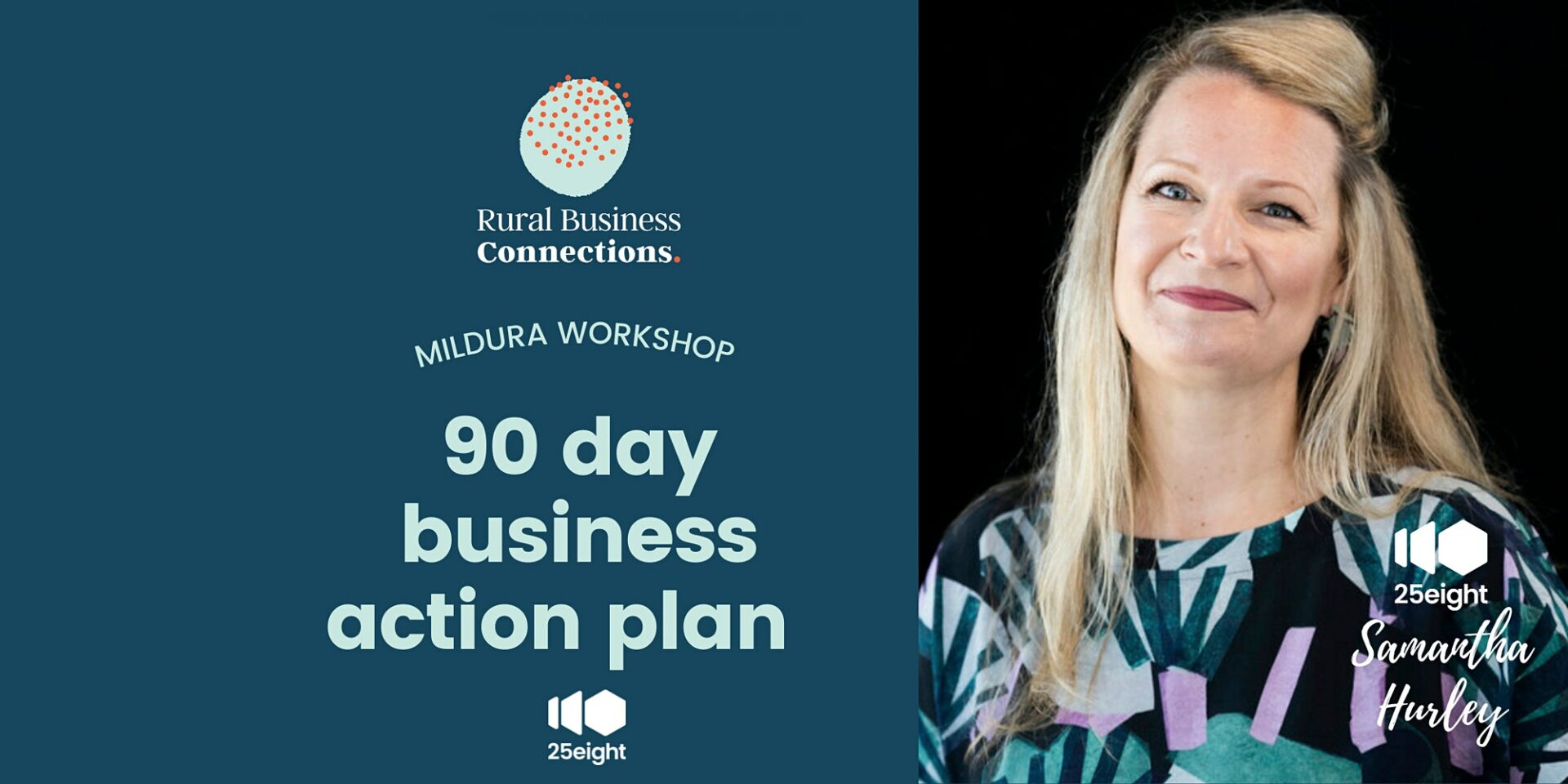 Be more productive with the time you spend on your business
Presented by Samantha Hurley from 25eight
Do you have a business plan that is sat collecting dust somewhere or is your plan all in your head?
Would you like to feel more motivated because you're achieving your to-do list and seeing results?
This workshop is designed to help you identify the most important actions you can take to grow your business and save you time. It will help you accountable and get super focused on achieving your tasks in a realistic time frame. Small to medium sized businesses are often the most time-poor with competing priorities and always an endless to-do list. Remove the cloud stopping you from achieving great things by creating a 90 day action plan that you know you can achieve.
Walk away with a clear goal that will help your business to thrive and a break down of the tasks to achieve it in a realistic time frame. Understand the benefits of working in 90 day periods of time and feel a greater sense of motivation to work on your business.
This workshop can be completed on it's own or be made more impactful by attending the morning workshop 'Strategy on a page – Get laser focused on growing your business'. You can also register for this workshop here.
About the presenter:
Samantha Hurley will be your facilitator. Sam is the CEO and Co-founder of 25eight, has a Masters of Teaching and over 20 years international experience in senior leadership positions for companies such as Lonely Planet and The Press Association. With early career experience in a technology startup and driving digital transformations in the media and publishing industries, her passion lies in the intersection of technology, business and creativity. Formerly Lead Instructor of Digital at General Assembly and as the Chief Educator at 25eight, Sam drives high standards for the adoption of innovative practices to ensure positive impact for the businesses they serve, regularly reviewing data for continuous improvement. She has worked with over 1000 small to medium sized businesses over the last six years and especially understands the challenges regional businesses face.
PLEASE NOTE ALL WORKSHOPS WILL RUN IN LINE WITH THE GOVERNMENT'S CURRENT PUBLIC HEALTH ADVICE AVAILABLE HERE