Strategy on a page – Get laser focused on growing your business – MILDURA
August 16 @ 10:00 am

-

12:30 pm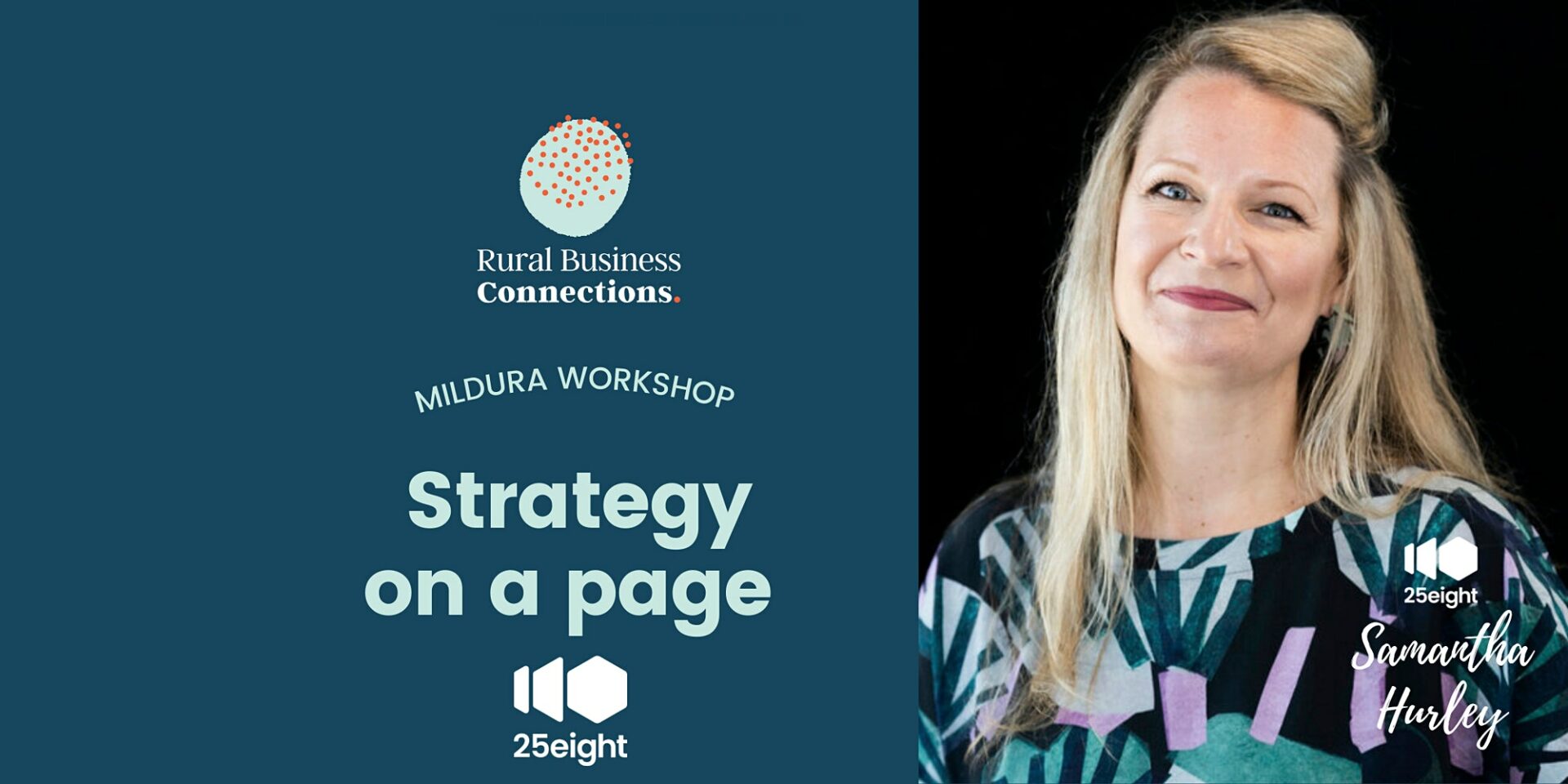 Get laser focused on growing your business
Presented by Samantha Hurley from 25eight
Do you ever feel like you're always responding to what's urgent in your business rather than what's important?
Would you like to get better results from any efforts you put in to grow your business?
This workshop is designed to help you get laser focused on what is important to your business and help you make strategic decisions to grow it. You will understand and determine or refine the ten key components of your business strategy working with the workshop facilitator to uncover what makes you stand out from your competition and who will love you for what you do.
This workshop is perfect for small to medium sized business owners that want more clarity and direction in their business and want to build their own capabilities and confidence to be more strategic and grow their business.
Walk away with clarity and direction to take your business to the next level with a completed business strategy on a page. Get maximum impact from your efforts to grow your business by identifying the most important things to focus on to reach your business goals.
This workshop can be completed on it's own or be made more impactful by attending the second workshop (90 day business action plan) aimed at developing your growth action plan, to view this workshop visit the link here.
About the presenter:
Samantha Hurley will be your facilitator. Sam is the CEO and Co-founder of 25eight, has a Masters of Teaching and over 20 years international experience in senior leadership positions for companies such as Lonely Planet and The Press Association. With early career experience in a technology startup and driving digital transformations in the media and publishing industries, her passion lies in the intersection of technology, business and creativity. Formerly Lead Instructor of Digital at General Assembly and as the Chief Educator at 25eight, Sam drives high standards for the adoption of innovative practices to ensure positive impact for the businesses they serve, regularly reviewing data for continuous improvement. She has worked with over 1000 small to medium sized businesses over the last six years and especially understands the challenges regional businesses face.
PLEASE NOTE ALL WORKSHOPS WILL RUN IN LINE WITH THE GOVERNMENT'S CURRENT PUBLIC HEALTH ADVICE AVAILABLE HERE WHICH CURRENTLY INCLUDE
The Victorian Government has announced that most COVID-19 restrictions will be removed from 11:59pm, Friday 22 April 2022.
Patrons won't be required to have two doses or show their vaccination status before entering any venue.
The requirement for staff and patrons of venues to check-in using the Service Victoria app will end, with operators not required to keep any attendance records or maintain a COVID-19 Check-in Marshal.
Face masks will no longer be required in hospitality and retail settings, or at events of any size (of course you are welcome to wear a mask if you choose)
Please stay home if unwell. If you test positive for COVID-19, you are required to self quarantine for seven days from the day you took your test.