Confident Communication Masterclass – MILDURA
August 11 @ 9:30 am

-

4:00 pm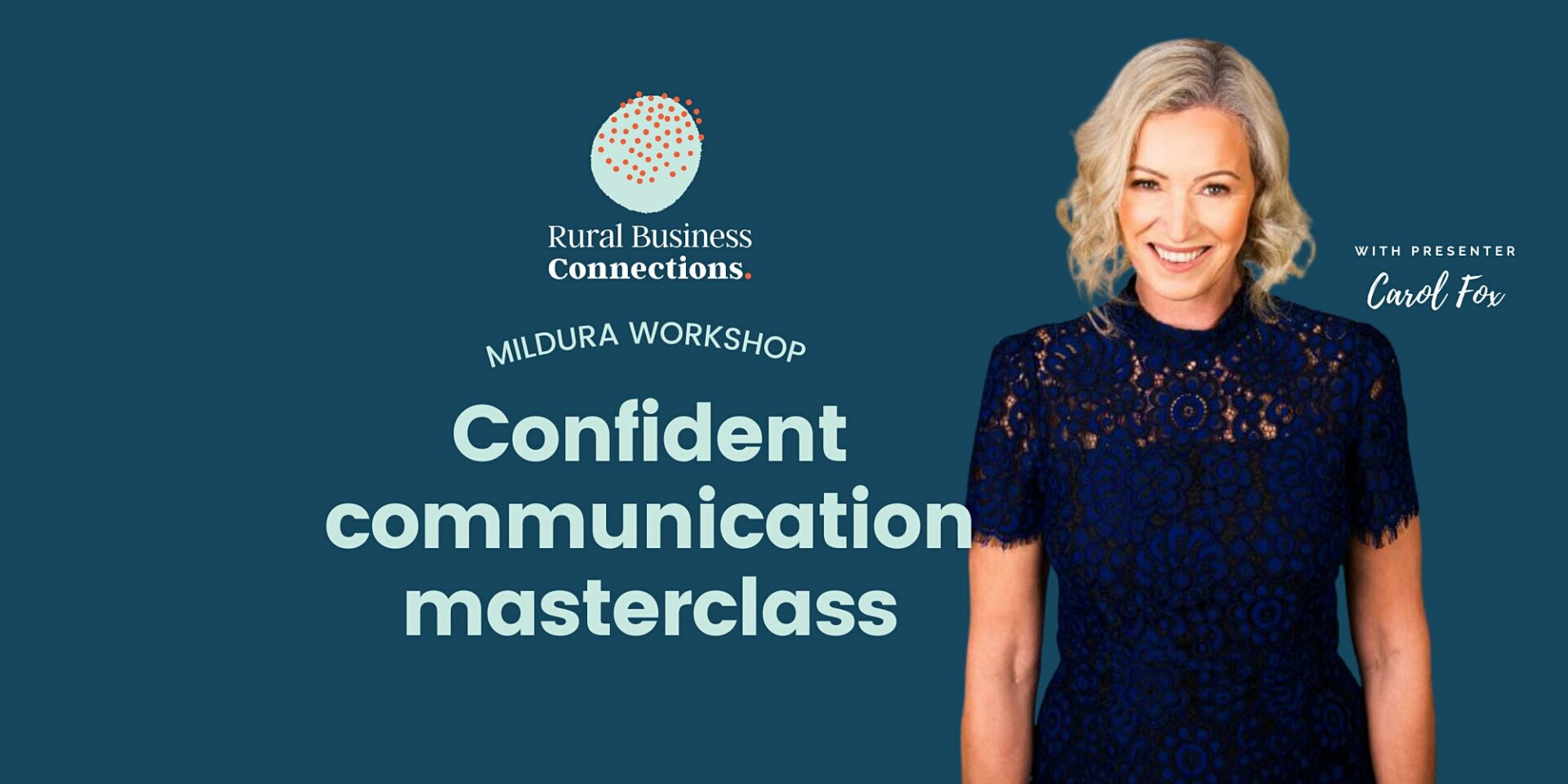 Rural Business Connections exclusive full day masterclass with Carol Fox -an Australian Financial Review 100
Women of Influence
A fun-filled Confident Communication masterclass – Carol will be sharing practical and easy to use techniques that will help you to become confident in your business interactions, with your clients and even life outside work.
Some of the concepts we will cover include:
Communication differences in people and how to adapt your message so it is received and understood easily.
Building rapport through conversations (email, online, face to face) to influence people into action and motivate people.
The power of words and body language on your message.
Understanding how to ask people for what you want.
Understanding differences in people and why they behave the way they do, especially in stressful situations, so you don't need to take it on.
Awareness of limiting stories we can have about others and how to reframe so we can be more confident and effective in any situation.
Performing under pressure.
Staying true to the message and being heard.
Managing self and others through stressful moments.
IMPORTANT Rural Business Connections is proud to bring this training opportunity to Mildura for our clients to access (to do this workshop in Sydney the cost is over $500 per person). This masterclass is strictly only available to those who meet the criteria for being a client of Rural Business Connections (it's easy to check here or contact Dianne via email dianne.johnstone@ruralbc.com.au).
About Carol Fox
Acknowledged as an Australian Financial Review 100 Women of Influence in 2019, Carol brings thirty years of expertise and experience in elite sport performance to ensure leaders eliminate self-doubt and build more confidence, so they enjoy positive interactions at work and achieve successful outcomes.
Carol is the co-author of Confident Communication for Leaders and is the creator and founder of the program this book inspired.
In the course of her career, Carol has worked with entire generations of leaders, influencing, guiding and inspiring them into effective, powerful, community-shaping action.
Former President of Women Sport Australia, Carol has been an advocate for Women In Leadership for many years and is passionate about helping women find their voice and be heard so they get the roles they deserve.
PLEASE NOTE ALL WORKSHOPS WILL RUN IN LINE WITH THE GOVERNMENT'S CURRENT PUBLIC HEALTH ADVICE AVAILABLE HERE WHICH CURRENTLY INCLUDE
The Victorian Government has announced that most COVID-19 restrictions will be removed from 11:59pm, Friday 22 April 2022.
Patrons won't be required to have two doses or show their vaccination status before entering any venue.
The requirement for staff and patrons of venues to check-in using the Service Victoria app will end, with operators not required to keep any attendance records or maintain a COVID-19 Check-in Marshal.
Face masks will no longer be required in hospitality and retail settings, or at events of any size (of course you are welcome to wear a mask if you choose).
Please stay home if unwell. If you test positive for COVID-19, you are required to self quarantine for seven days from the day you took your test.